PD340 - Fieldbus integration
The philosophy behind this high tech and stylish instrument has been to enable any number of transmitters to work together within an integrated system.
To this end, the PD 340 also offers fieldbus interfaces, which enable flowmeter measurements to be processed by distributed programmable controllers, PLCs and PCs, as illustrated on the figure.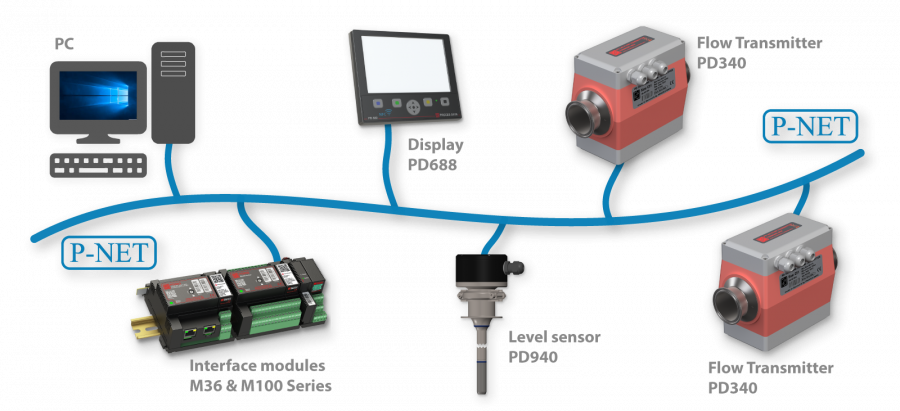 PROCES-DATA was the inventor of the now internationally recognised fieldbus standard (IEC 61158 Type 4) known as P-NET, and the company uses this communication protocol to integrate all its programmable controllers, input/output devices, and flowmeter products.
As an option, the PD 340 flow transmitter can be delivered with an integrated Profibus DP interface (IEC 61158 Type 3)
Installation of a PD 340 Flow Transmitter with Profibus is easy, and no Profibus expertise, programming tool, or display unit is required:
Install the flow transmitter in the pipework.
Connect power and Profibus cables.
Set the Profibus node address on the switch block before mounting the terminal box.
No configuration is needed.
When the Profibus master (PLC) initialises communication, the flow transmitter will automatically be configured correctly.
Configuring the Profibus master is similar to configuring simple Profibus devices, such as a temperature transmitter. The necessary GSD file is supplied with the transmitter, but can also be be downloaded.
Even already installed meters, even if they were delivered years ago, may be equipped with a Profibus DP interface, just by changing the terminal box, provided they are extended version.