PD340 - Display Unit PD688
PD688 Display with configuration program for PD340
PROCES-DATA is now introducing an application based on the PD688, a configuration wizard with an intuitive and user-friendly interface. Furthermore, the application allows you to backup data from one PD340 Flow transmitter and restore to one or several others. This application is an alternative to the traditional PD210 Display, which is not capable of doing neither backup nor restore of transmitters.
This display application is communicating over our network P-NET. This means that the PD340 Flow meters you wish to access must have an electronic module of the extended version with built-in P-NET. Otherwise this solution cannot be used.
Due to the built-in backup battery, the PD688 Display can remain switched on for a limited time, but long enough to take it with you into the process area of the factory.
Only the P-NET cable with its wires A – B – S then has to be connected to each flow transmitter.
In case your configuration tasks last longer, 24 VDC supply can be connected at the flow transmitter.
The configuration wizard is used by stepping forward and backward between eight menus that take you through the settings for P-NET, node address, serial numbers, batch function, quantities, temperature, simulation, PI regulator, and resolution of the display as well as of the pulses.
As an example, the batch function is illustrated below: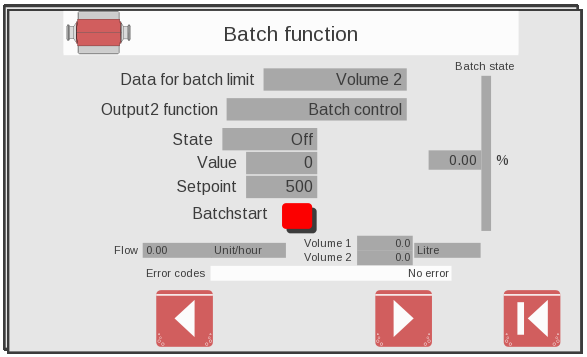 Both functions are integrated in the same main window.
Up to 10 backup files can be stored, each of them known by its number.
There is no queue system for the files with first in, first out, which therefore results in a high flexibility.
For each backup number, the program states whether or not there is an available backup.
The common window is illustrated below: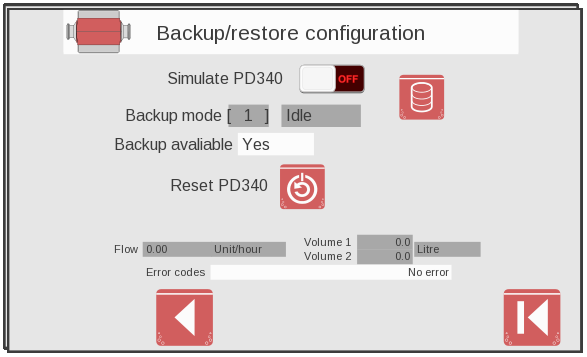 The backup files are accessed by tapping the database symbol.
All ten backup files and their availability can be looked at easily by swiping up or down on the display screen.
An example is illustrated below.
Alternatively, any backup may be accessed by keying in another number under backup mode.
The number [8], for example.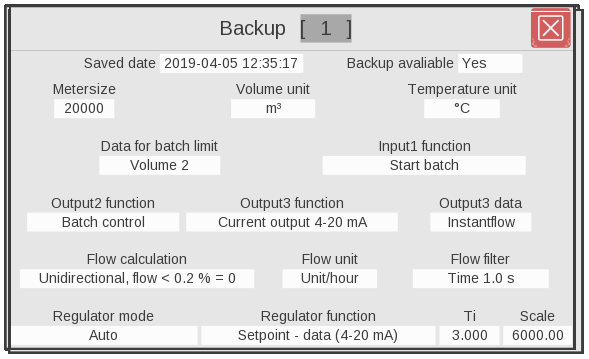 Tapping the key Idle gives access to select whether you wish to backup, restore, or clear the current backup number, and then tapping the function, you intend to carry out. The previous window reappears, in which the actual state is shown for a couple of seconds.
A screen-copy with these selections is illustrated here: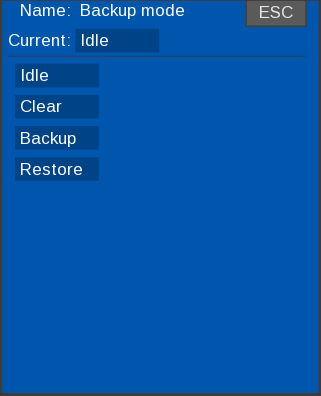 The configuration tool is mounted in a quality plastic housing, and comes with an external 230 VAC / 24 VDC power supply with connection on the rear side of the housing, as well as a connector with screw terminals to provide power supply and P-NET communication for the terminal box of the PD340 flow transmitter.
To help you make smooth and convenient service and maintenance of your flow transmitters, the price for this configuration tool is kept at an attractive level. Please contact us for quotation.
PD688 Display and its features
The PD688 Display is a touch screen from the COPP family, which possesses various communication ports, a built-in backup battery, a slot for a micro SD-card, two I/Os, hardware buttons, and other features that all together offer a high flexibility to create a variety of application programs built in VIGO6.
More general details about the PD688 Display can be found via the link.
PD688 Display with your application
If, for example, an installation consists of a handful or more PD340 flow transmitters with P-NET, each of them supposed to be equipped with a local PD210 Display, it might be an economic and much more elegant solution for you to develop a PD688 application, in which all of the transmitters can be accessed from one single display unit.
Your imagination is the only limit for the versatile possibilities the PD688 offers.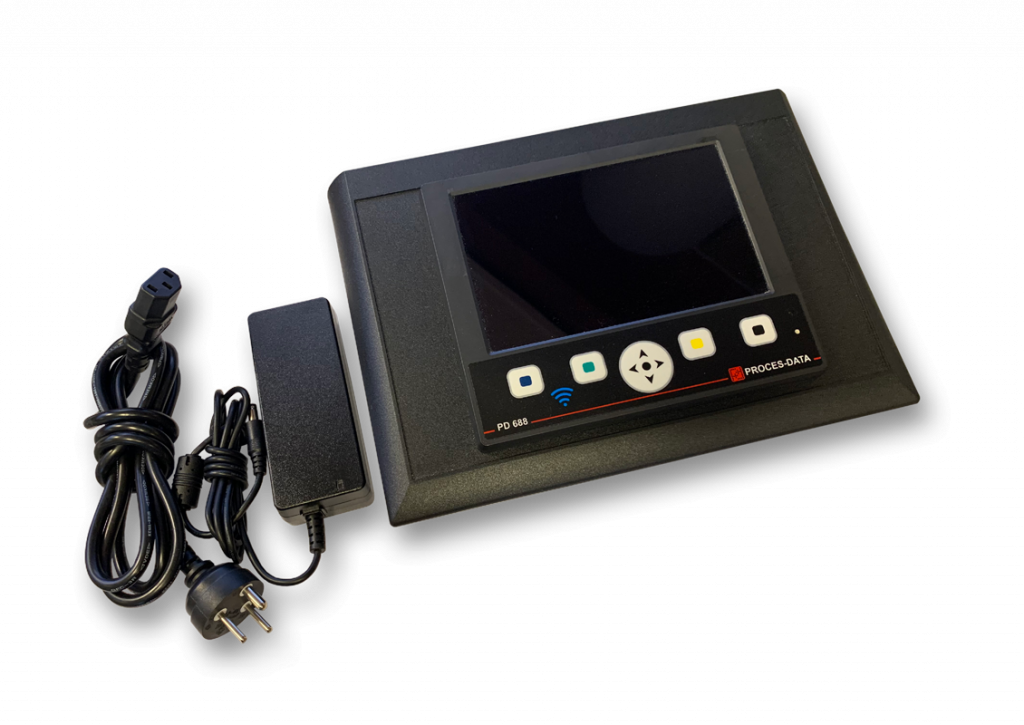 We should be happy to provide more information about this product.