Godkendelser og certifikater
Overensstemmelseserklæringer
Overensstemmelseserklæring for materialer bestemt til kontakt med fødevarer
Erklæring om overensstemmelse i henhold til regulering af materialer bestemt til kontakt med fødevarer:
PROCES-DATA-dokumentnummer: 552034
For kunder i EU:
Erklæring om overensstemmelse med Kommissionens Forordning (EF) Nr. 10/2011 om plastmaterialer og
-genstande bestemt til kontakt med fødevarer:
PROCES-DATA-dokumentnummer: 551764
Ovennævnte dokumenter femsendes på anmodning. Kontakt venligst salgsafdelingen.
Fødevarestyrelsens kontrolrapporter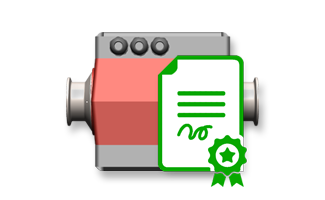 MID- / OIML-evalueringscertifikat
PD 340 er certificeret i henhold til:
– WELMEC guide 8.8 "General and Administrative Aspects of the Voluntary System of Modular Evaluation of Measuring instruments under the MID"
– OIML R117-1 Edition 2007 (E) "Dynamic measuring systems for liquids other than water".
Certifikatnummer: TC7204
PROCES-DATA-dokumentnummer: 551395
Ved brug af TC7204 evalueringscertifikatet kan PD 340 uden yderligere tests lovligt anvendes som en del af et certificeret målersystem.
For at bruge certifikatet kræves en skriftlig tilladelse fra PROCES-DATA.
For at få en kopi af TC7204 evalueringscertifikatet, eller for at få tilladelse til at bruge det, kontakt venligst salgsafdelingen.