Approvals, Certificates and Compliance
This document explains PROCES-DATA's commitment to environmental issues, especially in relation to the implementation of EU-Directive about WEEE and RoHS:
Declaration of conformity - Food Contact Materials
Declaration of conformity according to regulation on food contact materials:
PROCES-DATA document number: 552034
For customers in the EU:
Declaration of conformity to Commission Regulation (EU) No 10/2011 on plastic materials and articles intended to come into contact with food:
PROCES-DATA document number: 551764
The above-mentioned documents are available on request. Please contact our the sales department.
Control reports from the Danish Veterinary and Food Administration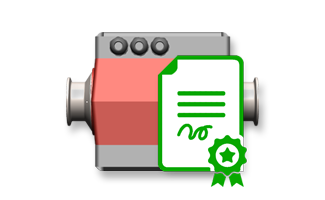 MID / OIML Evaluation Certificate
The PD340 is certified according to:
– WELMEC guide 8.8 "General and Administrative Aspects of the Voluntary System of Modular Evaluation of Measuring instruments under the MID"
– OIML R117-1 Edition 2007 (E) "Dynamic measuring systems for liquids other than water".
Certificate number: TC7204
PROCES-DATA document number: 551395
By means of the TC7204 Evaluation Certificate, the PD340 may, without further tests, be used as part of a certified measuring system.
Using the certificates requires a written permission from PROCES-DATA.
In order to get a copy of the TC7204 Evaluation Certificate, or to get a permission for using it, please contact our sales department.