Loading...
Product Description
Be aware that the Motor Controller is a combination of the PD870 COPP controller and the BM102 high power base module.
PD 870 is a device in the M100 series with high power channels.
The device offers 15 channels as interface for various types of process signals.
The 15 channels consist of:
3 High power voltage output (20A max @ 24V) or Non copp controlled output
2 Digital output
10 Digital input simple or Non copp controlled quadratur counter
1 Voltage input(-0.5V-30V)
1 Analogue input (4mA-20mA)
1 Fast input (50kHz)
1 Single quadrature counter – channel 1-3 is reserved as inputs
1 Differantial quadrature counter – channel 1-6 is reserved as inputs
1 Bidirectional high power output – channel 11-12 is reserved as outputs
1 Twin high power output – channel 11-13 is reserved as outputs
1 Parallel high power output – channel 11-13 is reserved as outputs
APPLICATION
PD 870 is used with the BM 102 base module that provides the I/O terminals, power supply connection and P-NET light-link communication interface, and power output.
PD 870 has two terminals for all the channels for connection to the process signals, respecting the demand for only one wire in each terminal, ensuring a safe and straight forward design- and installation process. One of the two terminals is with the negative supply and the other is the input / output terminal. Some channels are virtuelle, meaning they don"t physically exist but control other channels in order to achieve the required functionality.
Furthermore the PD 870 offers a P-NET fieldbus communication interface via light-link providing a simple and efficient communication to other devices using the P-NET communication protocol.
PD 870 is designed for DIN-rail mounting and with the built-in slot for a power rail and light-link communication, this ensures a simple and fast installation.
Please refer to the electrical specifications for further details.
PD 870 is programmed in COPP and various hardware interface sub-component types can be used for the different channel types. All hardware interface sub-component types are available in the VIGO6 library.
POSSIBLE CONFIGURATIONS:
These diagrams are showing different way of using the power output. The maximum current allowed from the battery 40A. The individual terminals are limited to 20 A. The last 2 configurations with the 40A motor and the brushless motor need special configuration. The diagrams shows motors as loads, it can also be solenoids in one or 2 polarity:
Motor A can rotate in both direction and motor B in one direction. Each motor max 20A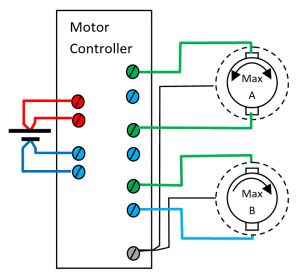 Motor A: One direction. Max 40A. Triple wiring to the motor.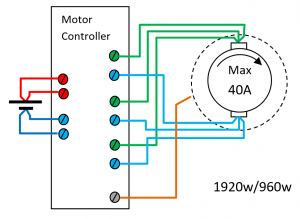 Motor A and motor B can rotate in both direction, but always in same direction. Total max 20A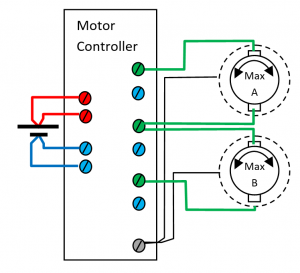 Motor A, B and C: One direction. Max 20A per motor, total max 40A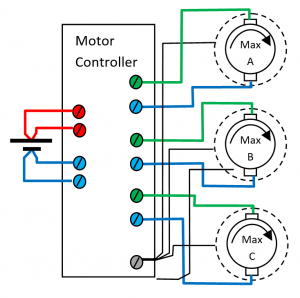 Brushless motor:
Max 20A per winding. Totally max 40A