PD340 - Displayenhed PD688
PD688 Display med Konfigurationprogram for PD340
PROCES-DATA introducerer nu en applikation baseret på PD688, et konfigurationsværktøj med en intuitiv og brugervenlig betjeningsflade. Desuden giver applikationen mulighed for at tage databackup fra én PD340 Flowtransmitter og overføre den til en eller flere andre. Denne anvendelse er et alternativ til the traditionelle PD210 Display, der hverken tilbyder mulighed for at udføre sikkerhedskopiering fra eller til en flowmåler.
Denne displayapplikation kommunikerer over vores netværk P-NET. Det betyder, at de PD340 Flowtransmittere, man ønsker at tilgå, skal være udstyret med et elektronikmodul i udvidet version med indbygget P-NET. Ellers kan løsningen ikke anvendes.
Grundet det indbyggede bufferbatteri kan PD688 Display forblive tændt i en begrænset tid, dog længe nok til at det kan tages med i fabrikkens procesområde.
I så fald behøver kun P-NET-kablet med dets ledninger A-B-S at blive forbundet til hver flowmåler.
Hvis konfigurationsopgaverne varer længere tid, kan en 24 VDC-forsyning forbindes til flowmåleren.
Med konfigurationsværktøjet kan man bladre frem og tilbge mellem otte menuer, der guider brugeren gennem indstillingerne for P-NET, nodeadresse, serienummer, forvalgsværdi, mængder, temperatur, simulering, PI-regulator samt opløsning af displayet og pulserne.
Som eksempel er vorvalgsmængde vist nedenfor: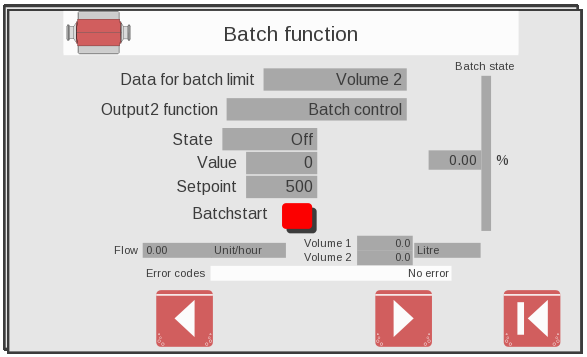 Begge funktioner er integreret i det samme hovedvindue.
Op til 10 backupfiler kan lagres, som hver især kendes på nummeret.
Der er ikke noget køsystem for dataene med først ind, først ud, hvilket fører til en meget høj fleksibilitet.
For hvert backupnummer angiver programmet om en backup er til rådighed eller ej.
Det fælles skærmbillede er vist nedenfor:
Backupfilerne tilgås ved at berøre databanksymbolet.
Alle ti backupfiler og deres tilgængelighed vises enkelt ved at bladre op eller ned på skærmen.
Et eksempel er vist nedenfor.
Alternativt kan hver backup tilgås ved i backuptilstand at indtaste dens nummer. Tallet [8] for eksempel.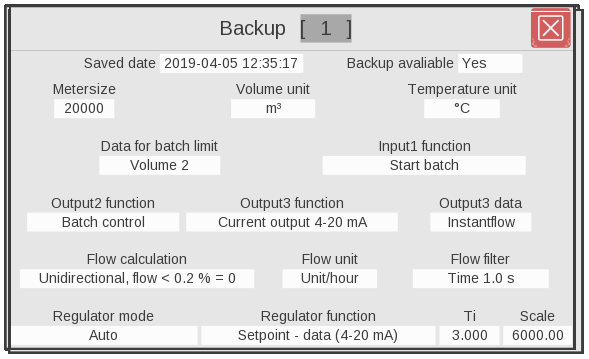 Ved at aktivere tasten inaktiv (Idle), kan man vælge, hvorvidt det ønskes at udføre backup, restore eller sletning af det aktuelle backupnummer, og dernæst vælge den funktion, man ønsker at udføre. Det forrige vindue fremkommer igen, i hvilket den aktuelle status vises i få sekunder.
En skærmkopi med dette udvalg er vist herunder:
Konfigurationsværktøjet er monteret i et plastikhus af høj kvalitet og leveres med en ekstern 230 VAC / 24 VDC strømforsyning med tilslutning på bagsiden af huset samt et stik med skrueterminaler beregnet til strømforsyning og P-NET-kommunikation til terminalboksen på PD340-flowtransmitteren.
For at muliggøre let og bekvem service og vedligeholdelse af dine flowtransmittere, er prisen holdt på et attraktivt niveau.
Kontakt os gerne for tilbud.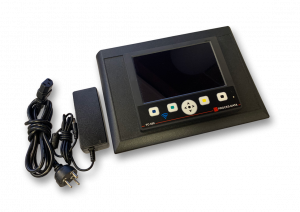 Det skulle glæde os at formidle mere information om dette produkt.
PD688 Display og dets egenskaber
PD688 Display er en touchskærm fra COPP-familien, der stiller forskellige kommunikationstilslutninger, et indbygget bufferbatteri, en indstiksplads til et Micro-SD-kort, to I/O, hardwaretaster og andre funktioner til rådighed, der samlet set tilbyder høj fleksibilitet til at kreere en varietet af programmer lavet i VIGO6.
Flere generelle informationer om PD688 Display findes via linket.
PD688 Display med dit anvenderprogram
Hvis eksempelvis en installation består af en håndfuld ellere flere PD340 Flowmålere med P-NET, der hver især skal udstyres med et lokalt PD210 Display, kan det være en væsentligt mere økonomisk og elegant løsning at udvikle en applikation til et PD688, via hvilken alle flowmålere kan betjenes fra en enkelt displayenhed.
Din fantasi er den eneste begrænsning for de alsidige muligheder, PD688 tilbyder.